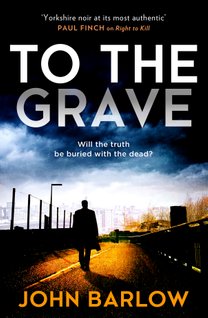 When DS Joe Romano first meets Ana Dobrescu she's nervous, in serious danger, and clearly needs help. The next time Romano sees her, she's dead.
There was nothing more he could have done, but that's cold comfort for Romano. He's determined to catch Ana's killer. Although the prime suspect, her millionaire boyfriend, is in a coma.
With the help of his larger-than-life partner Rita Scannon-Aktar, Romano begins to piece together a puzzle that places Ana at the centre of something much bigger than they could have imagined.
But while they're hunting a murderer, those higher up are more concerned about the money. So it's up to Romano to get justice for Ana. And whatever she knew, he'll just have to pray that she didn't take her secrets to the grave.
Praise for RIGHT TO KILL (Joe Romano #1):
'A striking debut. John Barlow's Right to Kill offers an intriguing plot and a gritty sense of place' Peter Robinson, Sunday Times bestselling author of the DCI Banks series
'The twisted big brother to Happy Valley . . . dark, chilling, deeply psychological and utterly gripping.' Michael Wood, author of the DCI Matilda Darke series
'Breakneck pace, terrific protagonist and a kick-ass sidekick . . . The sense of place just leaps off the page' Neil Lancaster, author of the Dead Man's Grave
'A strong start to a new series . . . Joe Romano is a compelling lead' Dominic Nolan, author of Vine Street

.