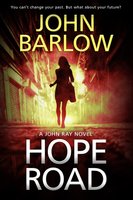 HOPE ROAD (John Ray/LS9 Book 1)
John Ray, the son of crime boss Antonio 'Tony' Ray, is the straight one of the family. With a successful business and a lifestyle to match, he wants nothing to do with his father's criminal world. But when a young woman is found dead in John's car, together with a large stash of counterfeit money, he sets out to find the killer. Set in Leeds, HOPE ROAD is a novel about deception, trust and the boundaries of good and bad.
Plenty of twists… fast-paced… a fine novel… Rough Edges
A gripping read... The stuff of Great British grit and dark, dark humour... far more cinematic than a McDermid or a Rankin. Crimefictionlover.com
[JB: The John Ray/LS9 series was my first serious stab at crime writing. All three novels are procedurals, but the main investigation is done by John Ray, an amateur sleuth who is implicated or drawn into each crime because of his criminal family. Running in parallel is a police investigation, and there is tension between the two investigations because John's lover is a police officer. The writing for this series was intended to transpose the voice and feel of American noir into a Yorkshire setting, which in retrospect might have been a touch pretentious... Nevertheless, I'm happy with the way the books turned out.
Incidentally, Book 1 involves a system for 'passing off' counterfeit money, something I've always wanted to do. As part of the research for the book, I met with several police detectives, and they were quite impressed by the scheme I'd devised!]